News:
July 2017:
No, I've not been in hibernation since the last update; just had a mass of technical difficulties with the website and now looking for alternatives to indexhibit!
So, the fruitful period of collaboration with Lance Austin Olsen that resulted in the release of 'Craig's Stroke' saw several other scores realised; among them a piece called 'particles and waves', which is now also out on the Infrequency Editions label.
New work recorded in the middle of 2016 underwent a much hastier gestation-period, but is no less the richer for it... Olsen's sprawling, sometimes harrowing and emotionally-engaging composition "Battle Maps, Battle Hymns: The Vast Field of Liberation" was released October 2016 in a very limited edition of 50 copies on Suppedaneum curated by Joseph Clayton Mills; copies may still be available from the usual distributers.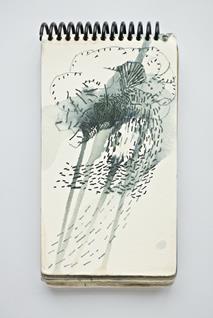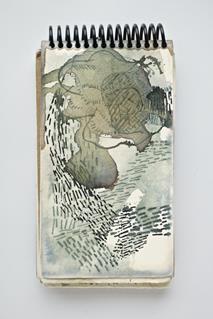 A year of steady collaboration with fellow-Canadian Barrie James Sutcliffe here in Gothenburg has resulted in many hours of fruitful recording and a scattering of live-performances. As the conceptual-approach of our dual-feedback based electroacoustics is honed further updates on any forthcoming performances and/or record-releases will be posted on this site.
Finally, it seems after a long pause following relocation to Sweden I've returned to the drumkit and engaging in regular sparring matches with local powerhouse Mårten Magnefors:
One session was recorded in its entirety with Sutcliffe stepping in as sound-engineer and released on isr no-number series as a free/name-your-price download.


_________________________________________________________
November 2014:
Tape release of the Gómez/García/Noyes collaboration is out this month on Tanzprocesz.
With roots in both electro/improv and raw/noise territories it could have been a rougher (even ear-damaging) ride but for García's superb mastering and the taming-power of cassette-tape frequency response.


_________________________________________________________
October 2014:
I aquired a tenor banjo from my father about twenty years ago (he never really used it..) Strings are my first instrument and I've tended to pick up the banjo regularly over the years for short periods before often putting it back in its case for much longer periods.
However in 2010 when I purchased a handheld recorder with decent mics I began recording those moments between domestic/family life, filing these improvisations on an external hard drive. Revisiting these recordings in 2012 I dug out kernals implying song and form; forward summer '14 and I'd finished the crafting of a short-form album which this month is released on the nowaki net label.
At the time the recordings were made I was immersed in Victor H. Mair's English translation of Early Taoist Tales and Parables of Chuang Tzu, pondering the "efficacy of useslessness"... though my long time love of bluesman Fred McDowell probably shines through equally clearly. Others hear shades of Azerbadjian and Uzbekistan, but mainly it was me listening to what the instrument had to say.
It's a free download.


_________________________________________________________
September 2014:
New release on the Infrequency Editions label - the first published results of my ongoing collaboration with Lance Olsen, namely CRAIG'S STROKE.


With the above three-panel mixed media artwork functioning as visual score the piece maps the inner and outer deterioration of a friend close to Lance who suffered a stroke in his mid-forties. The resulting recording is among the most delicate and poignant I have been a part of and is available from the Infrequency site as a 24-bit lossless download w/ cover artwork and reproduction of the visual score.
An interview conducted by Infrequency's Jamie Druin, where Lance and I are prompted to reveal some background info on the collaboration is available to read on the release page. Lance also speaks with Mathieu Ruhlmann on Vancouver Co-op radio about the release here.


_________________________________________________________
April 2014:
Active with a number of collaboration projects, most recently interpreting mixed-media artworks by sound & visual artist, Lance Austin Olsen. A suite of duo recordings are currently being worked on, as well as a larger project curated by Jamie Drouin involving a number of other artists in the realisation of RUZAWI, a longer-form work based on Olsen's childhood experiences at a bording school in Southern Rhodesia.



New duo recordings with Paulo Chagas from February this year are now in the mastering stages and mark my return to the drumset for the first time since leaving NZ and the first reeds/percussion duo since "and/also" with Dunedin's Stuart Porter. While these new pieces were being recorded I released an earlier reeds/electronics project with Chagas on idealstate, "Edges". Currently download-only, physical release is planned for later in the year.
On the louder end of the sonic spectrum, new work together with Migual A. García and the Berlin-based David Gomez (under the Krapoola moniker) is marked for cassette release later in the year; details forthcoming nearer to release-date.
2014 has seen the launch of a new initiative/sub-wing of idealstate recordings, isr|digital. The current batch of three includes compositional work with Finn Loxbo, new solo electronics and "Having Never Been To Beirut" - the culmination of nearly two years of work, both distance and live-performance realisations of scores together with Johnny Chang. On the latter, reviewer Brian Olewnick had the following remarks:
"Four quiet but tough and gnarly tracks.. tough sledding for a while, to these ears but also a very welcome experience, forcing one (me, at least) to readjust my preconceptions or try to do so... the final one pushes all the right buttons. It's very wide-open and manages to attain something of an epic quality over its 22 minutes, full of air and undulations. Huge variety of sounds here but somehow they remain almost backgrounded, very much part of the fabric. Strong piece, beautifully realized." Full review here.
isr|digital releases are download-only name-your-price, reflecting and catering to changing listening habits while offering listeners the chance to support the realisation of future physical releases on idealstate recordings.
And while I have been ruminating over the move to digital-release, Radio Cegeste has been musing over the dead space of storage media with the physical release of her New Zealand Storm Petrel EP, released on Flaming Pines - highly recommended, since Sally McIntyre is as meticulous as she is reserved in comitting her site-specific sounds to disc.


_________________________________________________________
December 2013:
Several new releases to close the year - Simon Reynell's 'Anonymous Zone' project has served as a platform for the initial recordings of the trio Nørstebø/Loxbo/Noyes. The piece 'Untitled Trio Improvisation (2013)' can be listened to and downloaded here, along with a number of other remarkable pieces, newly revealed as to their identities.
Nowaki Music Netlabel has provided platform for a solo percussion project with the longest gestation-period of any piece I've ever worked on... four years in the making from inception to eventual release.
Titled 'L'esprit de l'escalier, it's a relatively sparse, yet "brut" (to quote label-curator Marc Jolibois) reflection on music, statement, impulse and inspiration.
And most recently, another trio project, this time together with composer/instrumentalist Bruno Duplant and guitarist Barry Chabala, has found home on the CON-V label. 'Juste Après la Nuit, also a streaming/download release, is a realisation of an open-score by Duplant.
Finally, I'm proud to play host via isr no-number series to initial work between Duplant and Venezualan sound-artist, Gil Sansón. Entitled 'same place', the piece it is subtle realisation of a score by the pair and I understand it marks the beginning of further fruitful collaboration between the two. In the meantime this inaugural work can be previewed and downloaded here


_________________________________________________________
October 2013:
The newest physical release on idealstate is now available:
ISR1-13 miguel a. garcía, tomas gris, lee noyes: asto ilunno.
Shipping from 21 October, copies can be ordered here.
The four-sided digipack is graced by original cover art by Pilgrim Talk/Tomb Legions' Nick Hoffman.
Preorders come with immediate lossless download.
Two more digital releases since June; the one on the no-number series a live performance with Sally Ann McIntyre subsequently titled 'if witness was an architect'. McIntyre gives a fuller description herself on her own site: radio cegeste 104.5FM; the other, 'Lent' is a sax/electronics duo with Massimo Magee on the Nowaki Netlabel.
Also of note is the forthcoming release on Bruno Duplant & Pedro Chambel's rhizome-s: presque rien - 44 interpretations of:
"The water (what it contains) does almost nothing to the glass, and the glass (where it is) does not alter the water" - text: Francois Ponge
Curated by Bruno Duplant 'presque rien' features realisations by a raft of different artists within conteporary composition, improvisation and experimental music among which I am honoured to be included.


_________________________________________________________
June 2013:
Another for the no-number series is Distillation, a solo work for input-loop sampler recorded Alingsås, Sweden in August 2012
empty of images or concepts - every task for its own sake.
Live and rehearsal realisations of Having Never Been to Beirut now join remote-realisations and other improvisations/compositions recorded together with Johnny Chang over four days in Berlin.
Johnny and partner Alice proved to be gracious hosts over the four days, which culminated in the Labor Sonor performance, May 6th. The text score for HNBtB is reproduced below.
New collaborative work with Migual A. Garcia and associates has provided a wealth of material to work with in coming weeks, as have recording sessions here in Göteborg in trio with Finn Loxbo (Sw) and Henrik Munkby Nørstebø (No).
Material worked on with Garcia earlier in 2012 has recently been made available on the homophoni netlabel as homo056 one perjury (for murayama).
Having Never Been to Beirut

6:00 am - sound of private electricity generator, smell of its toxic fumes.

7:21 - sound of some kind of sewage truck emptying the Central Bank of sewage and possibly more.

7:25 - sound of some huge hammer coming down on a wooden post

7:29- smell of the sea.

7:32 - first honking asshole, honks compulsively.

7:35 - smell of someone smoking on balcony nearby

7:36 - smell of the sea.
If the same place can turn into a different place over time, then place is time. And place is moving without going anywhere.
I cheered for Palestine but it was too late. Palestine was lost.

And it also lost.


_________________________________________________________
April 2013:
Attention and energies have of late been invested in the no-number series with two releases already this year and two more due spring/summer 2013.
The first, released late february, is C. Spencer Yeh's 'None', a live solo performance from his 2011 Australasian tour.
Latest in the series is Piotr Tkazc & Alice Hui-Sheng Chang - 'micro', an ep-length study in microscopic textures realised with amplified objects and extended voice.
Next up will be feedback works for solo-sampler recorded mid 2012 and release of a live performance of Lee Noyes & Radio Cegeste, Dunedin Public Art Gallery Jan. 2011. Meanwhile, plans are afoot to prepare a summer release on idealstate, the first since the trio of Jan.'12 releases; more info as the project progresses.
Recordings from late 2012/early 2013 are surfacing - new recordings in trio with Bruno Duplant and Barry Chabala are forthcoming on Travis Johnson's Ilse label later in the year. January marked Ilse's two year anniversary; a 32-track celebratory compilation, including a track I recorded especially for the comp. is available here.
New solo works have been released on the soundcloud, along with recent duo improvisations with guitarist Finn Loxbo. Finn and I are solidifying a trio-project with Norweigian trombonist Henrik Munkeby Nørstebø with recording sessions planned for mid-April.
On the live-front, I will play Labor Sonor in Berlin together with composer Johnny Chang on 6th May 2013, which should contribute to the finishing of the recording project he and I have been engaged in since August last year.


_________________________________________________________
December 2012:
Banned Production tape release was made available this month. bp207: 'truth in opposition' is a composition for laptop-processed input-loop mixer based on James Beattie's Essays, on the nature and immutability of truth in opposition to sophistry and scepticism. On poetry and music as they affect the mind. On laughter and ludicrous composition. On the utility of classical learning (1776)
Limited edition copies are available from bannedproduction.com or from idealstate recordings
FBI civil-rights abuses in Portland, OR in mid-2012 has prompted Ilse's Travis Johnson to sponsor a compilation to support detainee's legal costs - Experimental Musicians In Solidarity With Pacific Northwest Grand Jury Resisters is a pay-what you like download with all proceeds going to the cause. I was quite chuffed I was deemed fit to have the last word in response to these events.
Wrapping up the year that was, review site A Closer Listen, who in February reviewed ISR1-12 lee noyes & radio cegeste - 'to orient themselves with coastlines' have this month included the release in both its 2012 album-covers of the year and field-recordings/soundscapes categories.


_________________________________________________________
October 2012:
Was pleased to be invited this month to participate in RE_MOTE, an experimental video-performance as part of Jamie Drouin's Sounds In A Room concert series. As Drouin describes, RE_MOTE brings together musicians from different parts of the world to 'perform' together through video documentation. Working independently, without any score, or information from the other artist, the resulting two unedited videos are presented together for the first time at the bi-monthly concert series.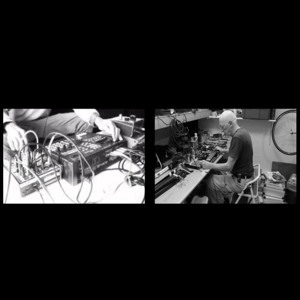 RE_MOTE 3 paired my input-loop sampler improvisation with that of sound and visual artist Lance Austin Olsen. The resulting film can be viewed here.
A new release also this month on isr no-number series is the ad-hoc trio Jeff Henderson (alto sax), Hermione Johnson (prepared piano) and myself, recorded live at Threave Historic Mansion in April of 2011.
Like all in the series, it is a free/name-your-price download and available here.


_________________________________________________________
August 2012:
isr no-number series released this month - Matt Earle, Tim Green, Adam Sussmann, Massimo Magee - "Opera". It's a copyleft download and available here.


Roeba #12: Miguel A. Garcia, Tomas Gris & Lee Noyes 'la axacra de llano' is in production, I'm told


I was recently invited to contribute a page work for the now-published nz music compendium Erewhon Calling: Experimental Sound in New Zealand. Edited by Bruce Russel and produced by Richard Francis & Zoe Drayton under the auspices of Audio Foundation New Zealand, the book aims to "survey the full range of 'non-standard' audio practices in contemporary NZ culture" and is available worldwide here.


Currently collaborating with violin/violist/composer Johnny Chang, most recently interpreting text scores; descriptions of others' experience in places we've never been. Potential live performances tipped for Jan/Feb 2013. Some recent solo work using the electronics rig i've been employing with Johnny i've uploaded to the soundcloud as well as a piece for solo snare drum, marking a return to percussion after an enforced 6-month, international-relocation break.


_________________________________________________________
April 2012:
The mid-2011 realisation of Bruno Duplant's graphic score "9 by 5", featuring Duplant with Anders Dahl, Christian Munthe, Massimo Magee and myself has just been released on Travis Johnson's ILSE label. Copies can be purchased from the Ilse Shop for $6USD shipping worldwide; or contact me directly and I can arrange a copy to be sent. There's also an audio-excerpt streaming for preview on Ilse's soundcloud.
Chris Whitehead has recently reviewed Richard Sanderson's 'Precision', released on idealstate recordings no-number series, at The Field Reporter site. Read the review here.
The January batch of releases on idealstate recordings are shipping now from the idealstate website:
Some early reviews are in here, here and here.


The trio of discs are packaged in 300gsm gatefold sleeves in limited editions of 100.
_________________________________________________________


November 2011:
ISR3-11 'white & red | LUX' has been favourably reviewed recently, both on Brian Olewnick's Just Outside and Richard Pinnell's The Watchful Ear.
There are still a number of physical copies of this + ISR1-11 dHialogue - Fine As Diamonds and ISR2-11 hargreaves/noyes - pared available directly from idealstate recordings.



_________________________________________________________